TM Blog Uncovers In-Depth Insights on How Digital Technology is Driving New Growth Opportunities for Malaysia
[ad_1]
The official TM blog is aimed at stakeholders such as key decision makers, analysts, the media and the public. — Photo by Ahmad Zamzahuri
By Audrey Edwards
Tuesday, November 15, 2022 6:15 PM MYT
PETALING JAYA, November 15 — Just a few decades ago, obtaining information might have been difficult at times, with access to reliable information either being limited or requiring a lot of time and money.
Many things, however, have become easier in recent years with the advent of the Internet and improved fixed and wireless connectivity.
The emergence of various search engines, social media platforms and apps has led to the boom in online information, with limitless information now available at your fingertips.
While there are benefits to the ease with which we can access information, there are also downsides to information overload and fake news, creating a conundrum of what information is real and if it is. are useful.
Therefore, it has become important to rely on reliable sources of information, backed by subject matter experts with experience in their respective fields.
TM, through its official TM blog, is one of the latest players to provide accurate information and information.
Group Vice President of Strategic Communications Saffura Chinniah said the decision to create a blog was to channel the ideas and experiences of various TM leaders, including its CEO and senior group management, and was made to match the advancements made by some of the biggest tech players in the world. businesses.
"The blog intends to become a one-stop information hub for key decision makers, analysts, the media as well as the public, allowing them to tap into the latest industry happenings," she said. .
"It will also focus on new ideas, analysis as well as trends in digital technologies and transformation, sustainability, organizational culture and various other business and digital transformation topics. It also allows us to engage directly with local and global audiences, becoming a hub for information that shapes the way people and businesses live and work.
Saffura added that the blog was written from the writer's perspective and was supplemented with key learnings and insights.
"It focuses on 'how to' in order to educate readers and become a reference source for our stakeholders," she said.
"It's about inspiring others to embark on their own digital transformation journey.
"We also wanted to address the meaning of 'personal disconnect' and what matters most to individuals in the digital age."
In addition to covering topics of interest to key decision makers, analysts as well as the media, the blog aims to reach the general public, local and global partners and researchers.
She explained that topics were chosen based on common business issues or areas of interest that impact her target audience.
It also provides informed commentary on the news that shapes local and global markets.
"The information we share on the blog does not constitute a 'hard sell' of TM's products and services. It focuses on awareness and thought leadership, supported by real experiences and insights from our leaders. It sets a very personal tone between them and our readers and opens up opportunities for meaningful conversations that are shaping the world today," she added.
The official TM blog will be posting monthly with plans for podcasts and videos to be added in the coming months.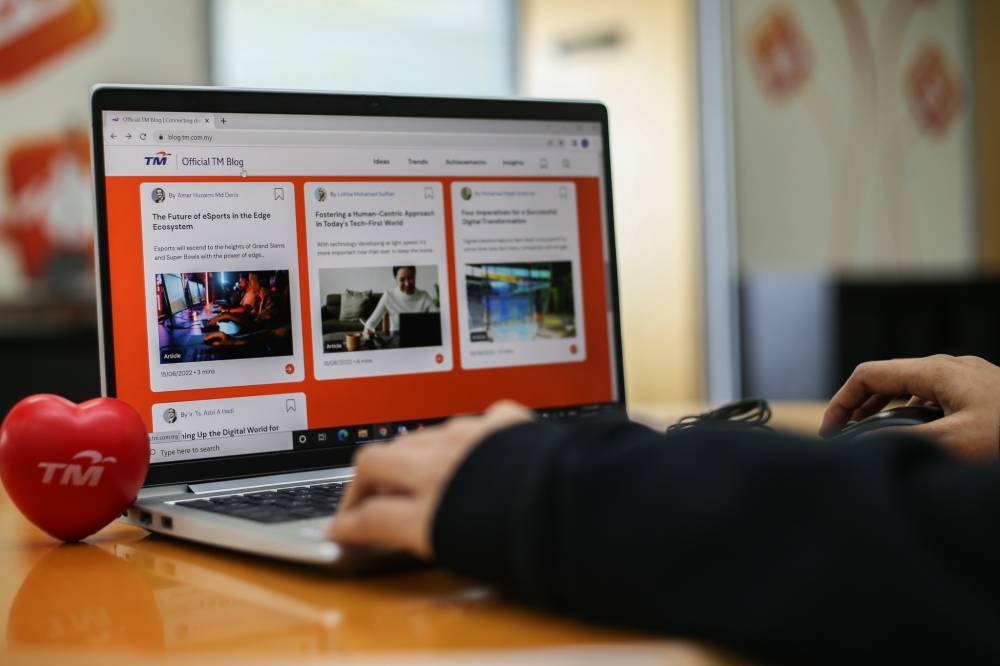 Future plans include podcasts and blog videos. — Photo by Ahmad Zamzahuri
Different from what exists
Saffura also said that the official TM blog was among the first business sites to share and educate readers with personal insights and the real voice of TM executives.
"The way we have chosen our writing style aims to engage and inspire an informed global audience. Most importantly, these articles are underpinned by facts and ideas that embody an authentic and pragmatic approach.
Readers, she added, could also bookmark articles and subscribe to content that interests them, as well as re-share the articles via social media.
Ultimately, the blog was developed to understand the architecture and complexities of the telecommunications or technology industry, she explained.
"We want to bridge the digital divide by improving understanding of business, technology and societal benefits."
Providing a reliable and credible platform to enable knowledge-based reporting for media partners, as well as adding information on the latest trends and TM Group companies and solutions, TM invites media partners to leverage of the blog for information and welcomes suggestions for improvements or other topics of interest.
[ad_2]
Source link