Thrill Water Park Guide to Perfect Day at CocoCay
If you want the thrill of your day on a private island at Royal Caribbean, check out the Thrill Waterpark at Perfect Day at CocoCay.
With so many slides and pools, you might want to know what's included with a visit to the water park and how to get the most out of your visit. This guide will give you a good overview of what the water park has to offer, as well as tips and tricks to have a great day.
Overview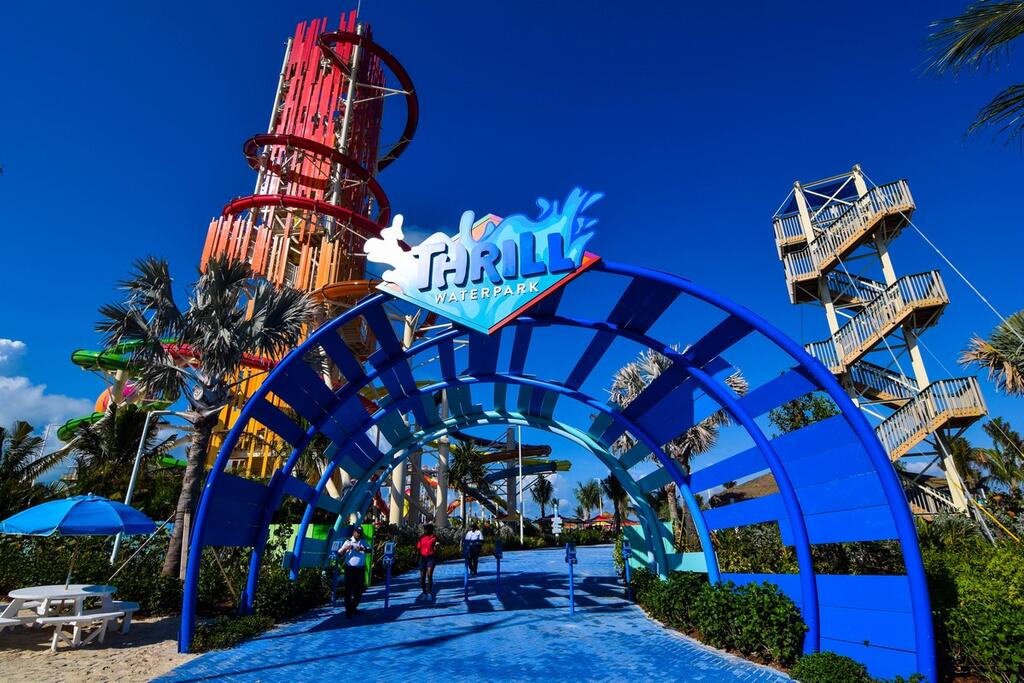 Perfect Day at CocoCay is a private island that only Royal Caribbean cruise ships can visit, and one way to spend your day there is to visit the water park.
Thrill Waterpark has an additional cost, meaning that only those who purchase entry can enter the park. Entrance to the water park is charged per person and includes one day's entry.
Previously, Royal Caribbean offered a half-day pass, but this is no longer offered. Everyone who wants to enter the park has to pay the entrance fee whether or not they want to slide.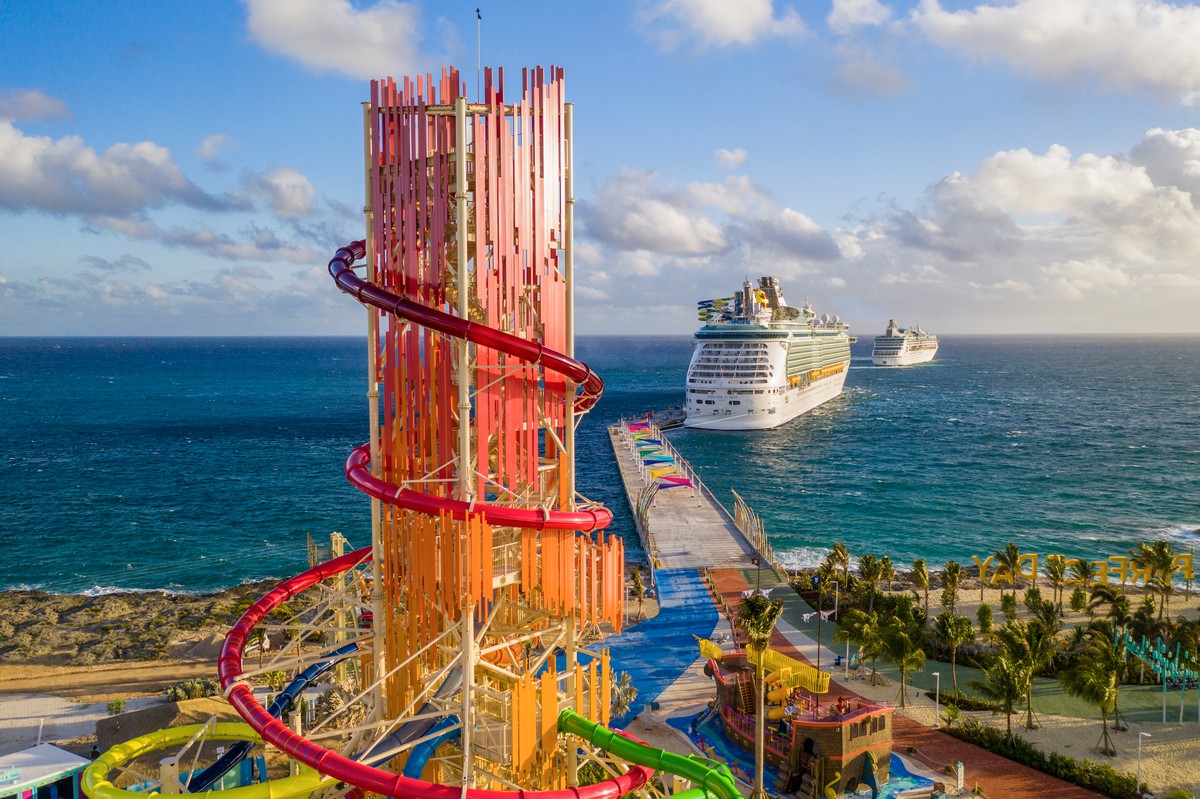 Children under 14 must be accompanied by a guest 14 years of age or older with a ticket to enter Thrill Water Park.
To enter the park you just need your SeaPass card. Scan it on entering and you are good to go. No separate admission required.
There are two entrances to Thrill Water Park, although almost everyone uses the main entrance. The main entrance is located to the right of the arrivals plaza at Perfect Day at CocoCay. There is an additional entrance closer to Oasis Lagoon and Splashaway Bay, primarily intended as a convenient way back to the water park.
It is made up of three basic areas: Daredevil's Peak, the Splash Summit Tower, and the Pools.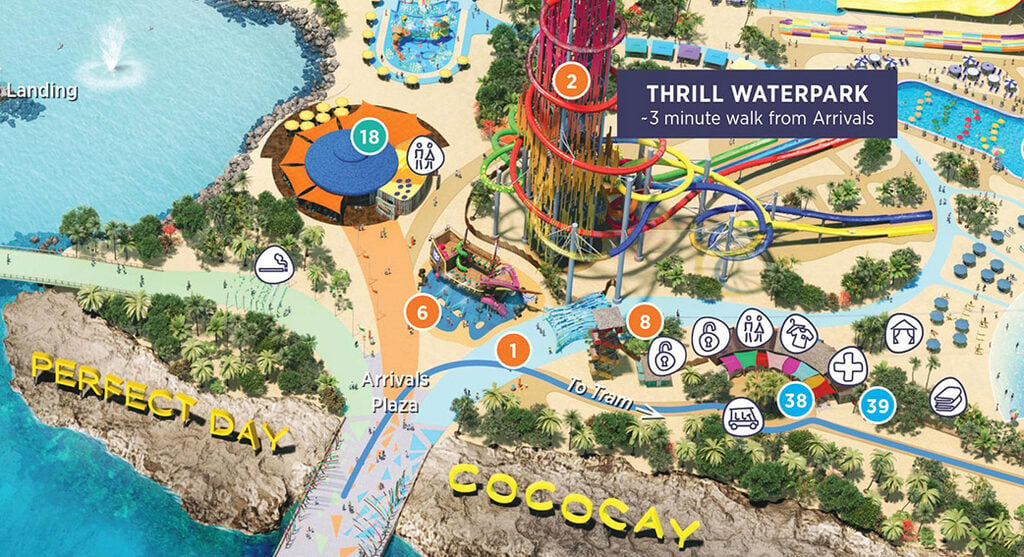 There are chairs, umbrellas and picnic tables around each of the waterslides, as well as near the two swimming pools. These chairs and tables are free and first come, first reserved.
There are free lockers near the main entrance where you can store your stuff for the day. Toilets and a first aid station are also located near the lockers.
Cost of Thrill Water Park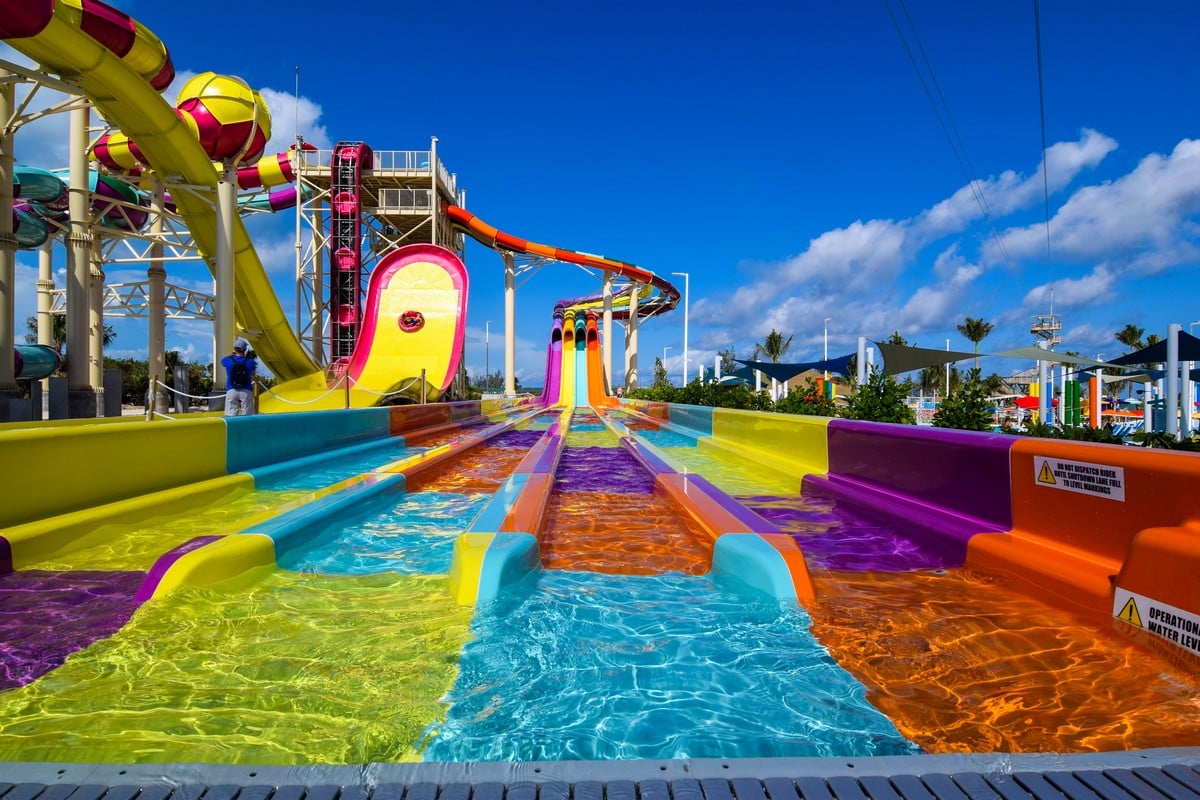 The exact cost of entry to Thrill Water Park per person will vary from ship to ship and from cruise to cruise. In short, there is no fixed price for each navigation.
You can purchase pre-cruise admission through the Royal Caribbean Cruise Planner website, onboard the ship at the shore excursions desk, or even on CocoCay at the gate.
How much you will pay is determined by demand, the time of year, the vessel you are sailing on, and other factors.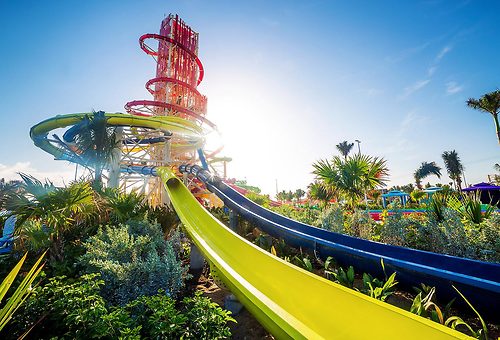 Prices generally vary between $ 50 and $ 100 per person, but there is a lot of fluctuation.
Admission to the water park is included with a Thrill Waterpark hut (more details later in this article).
What slides are there at Thrill Waterpark?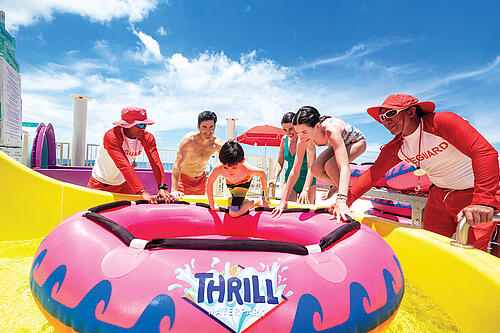 Royal Caribbean designed the Thrill Water Park to offer fun and exciting water slides.
There are two laps in the water park, with slides of varying speed and intensity.
The Daredevil Tower stands 135 feet tall and are all body slides that feature the longest, tallest, and fastest rides in the park.
Daredevil's Peak: 135 feet high, it is the tallest toboggan in North America (minimum rider: 48 ")
Dueling Demons: Two slides launch runners 75 feet from a vertical position (Minimum rider: 48 ")
Green Mamba: A 50 foot high slide with lots of turns (Minimum rider: 48 ")
Howling Snake: Another 50-foot-high fully vertical speed slide (minimum pilot: 48 ")
Manta Raycers: Twin running slides (Minimum rider: 48 ")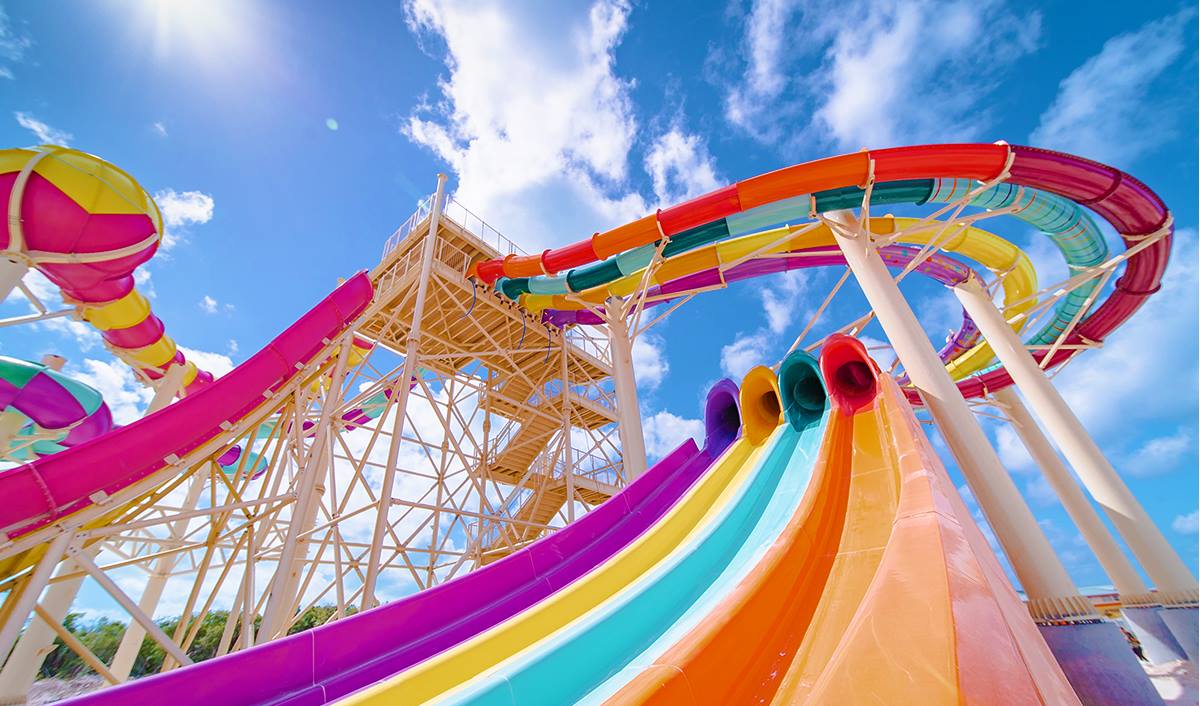 Splash Summit is the family ride, where you can ride with other members of your party together.
Sling Shot: family raft slide. Up to 4 people in a raft that climbs up a wall to offer sensations of zero gravity (Minimum rider: 48 "or 40" with life jacket)
Splash Speedway: Slide on carpet, where up to 4 people can descend (minimum: 48 "or 40" with life jacket)
Twister: Two riders slide on a tubular slide (Minimum rider: 48 "or 40" with life jacket)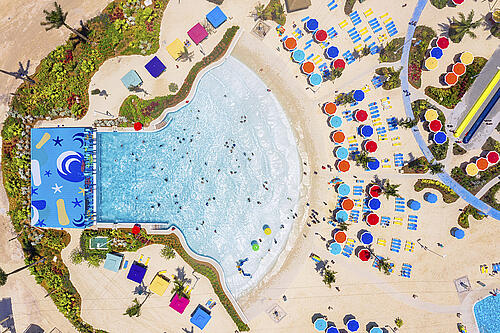 There are also two swimming pools at Thrill Waterpark:
Wave pool: Royal Caribbean says it is the largest wave pool in the Caribbean
Adventure Pool: A pool with obstacles that you can climb, walk, and swing on. This includes water lilies, rope swings, and even a climbing wall (guests under 48 inches must wear a life jacket at all times)
To eat
All of the slides and pools will generate a significant appetite, so Royal Caribbean has included a Snack Shack location inside the Thrill Water Park.
Snack Shack is free and offers hot dogs, salads, burgers and more. The chicken sandwich and mozzarella sticks are a must.
In addition, it is very easy to get out of the water park and look for food elsewhere on the island. Skipper's Grill is the closest option and offers more variety.
There is also a bar in the water park for any cocktails, beers or soft drinks you want. If you purchased a drink package on your cruise ship, the perks also work here.
Cabins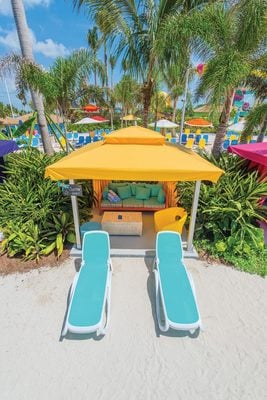 In addition to purchasing a ticket to the park, you can opt to rent a cabin for the day.
CocoCay Cabanas provides a private area to enjoy throughout the day, with a cabana attendant who can bring food and drinks when you need them.
Thrill Waterpark cabins can accommodate up to 6 people and offer a luxurious corner sofa and 2 resort style chairs, as well as power outlets. Your Cabana concierge will provide you with 8 towels and stock your cooler with 8 complimentary bottles of water. Additional water bottles will be available for purchase.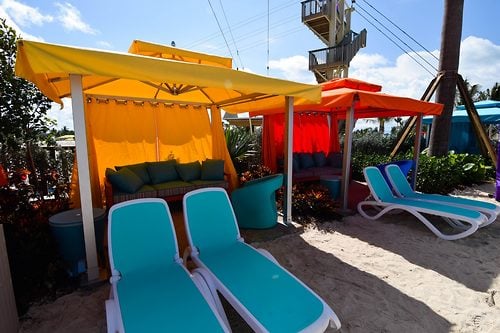 Entrance to the water park for up to six people is included with the purchase of your cabin.
Royal Caribbean has placed cabins in three groups around the water park:
Near Daredevil's Peak
Near the family tower
Near the wave pool
The price of a cabin is usually between $ 499 and $ 899. Much like the cost of entry to the water park, the exact price will vary from sail to sail.
The reason for reserving a cabin is to have a space dedicated to your family, as well as the service provided by the attendant. In many cases, the cost of the cabin becomes negligible when you factor in the admission it includes for large families.
Tips and secrets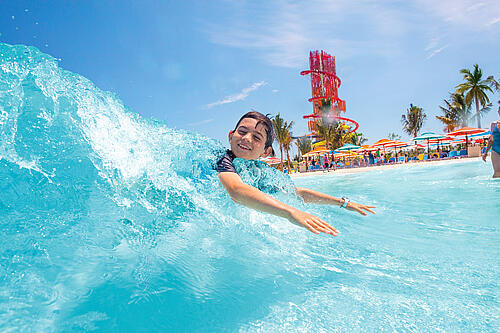 1. Do not bring towels from the ship
Save the effort of picking up towels to bring with you to the water park.
There is a towel station by the wave pool where you can get towels, as well as swap them for fresh towels.
If you are renting a cabin, towels are provided to you at the cabin.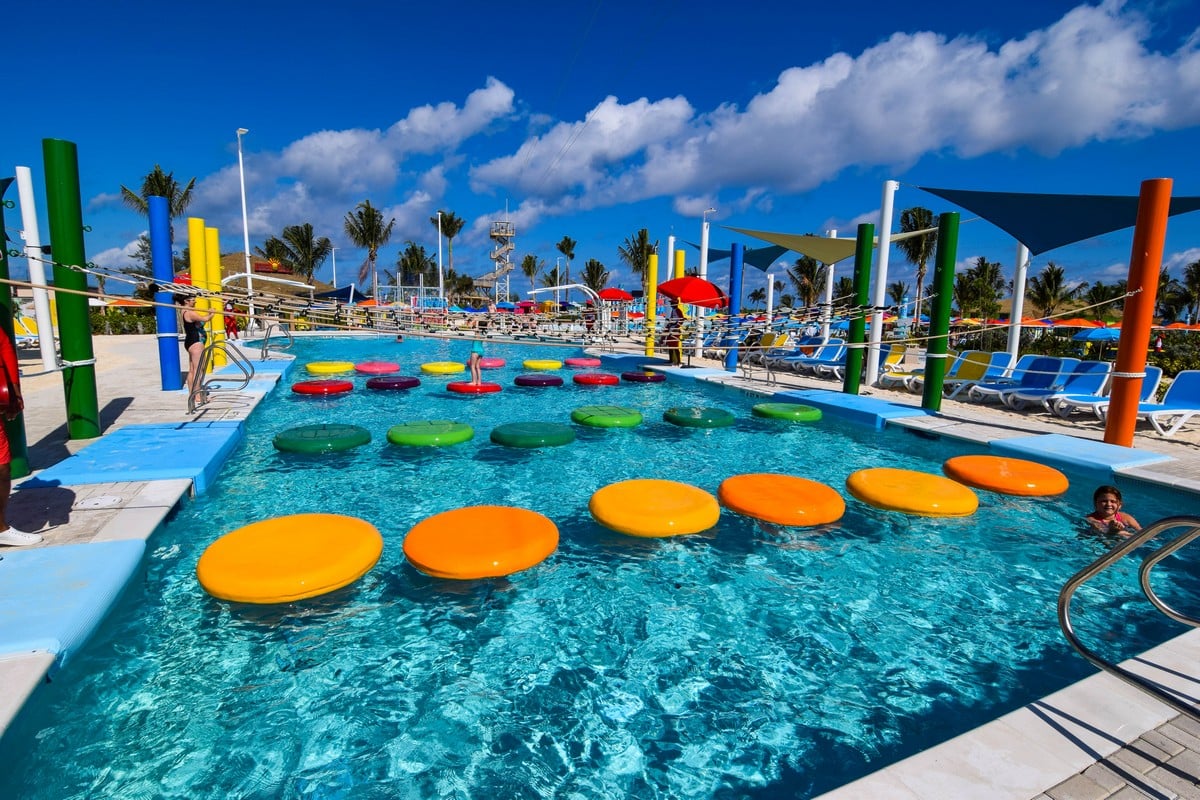 2. Adults can use the adventure pool
While it may seem like the adventure pool activities are geared towards kids, adults can use them as well.
The rope swing is a lot of fun and you can race with your kids on the water lilies.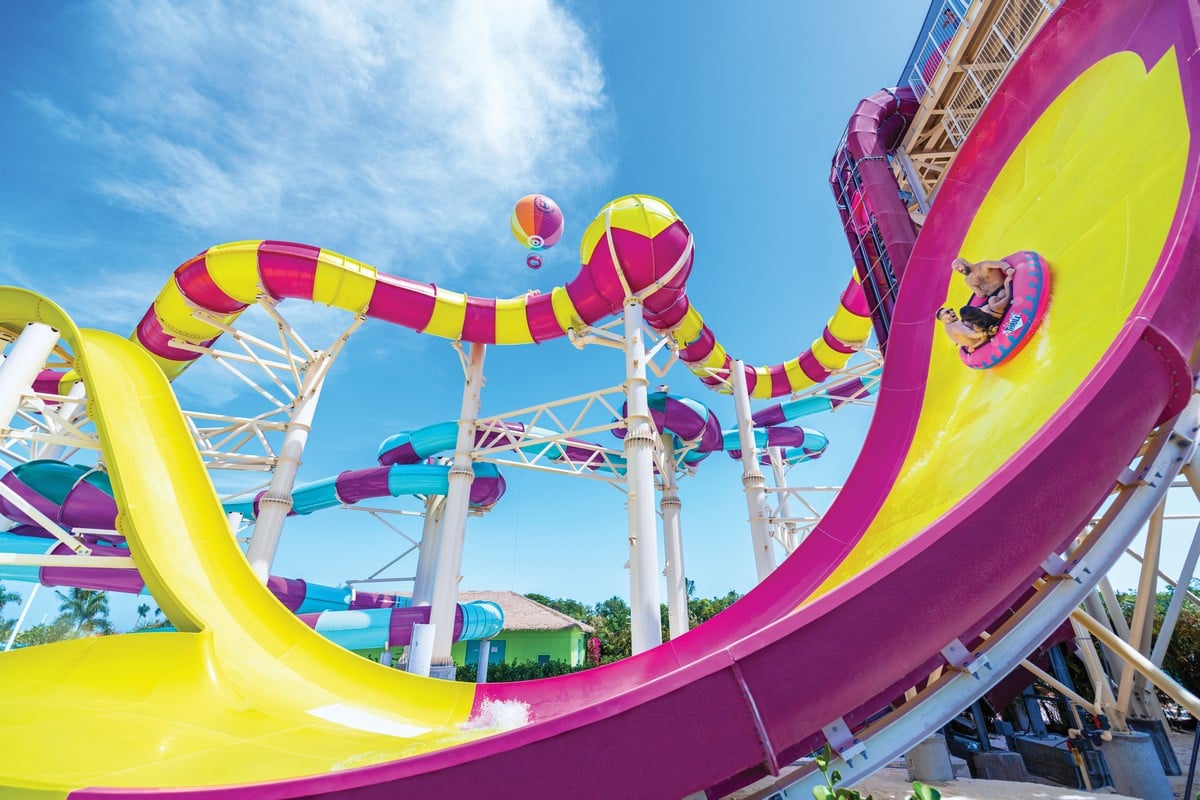 3. Best times for short slide waits
When your cruise ship is sailing at full capacity, there are two good times to beat the lines for the popular waterslides.
First, get off the ship early and hit Daredevil's Peak and Sling Shot as fast as you can. The lines for these two slides will always be the longest.
The best times to do toboggans with a short wait are: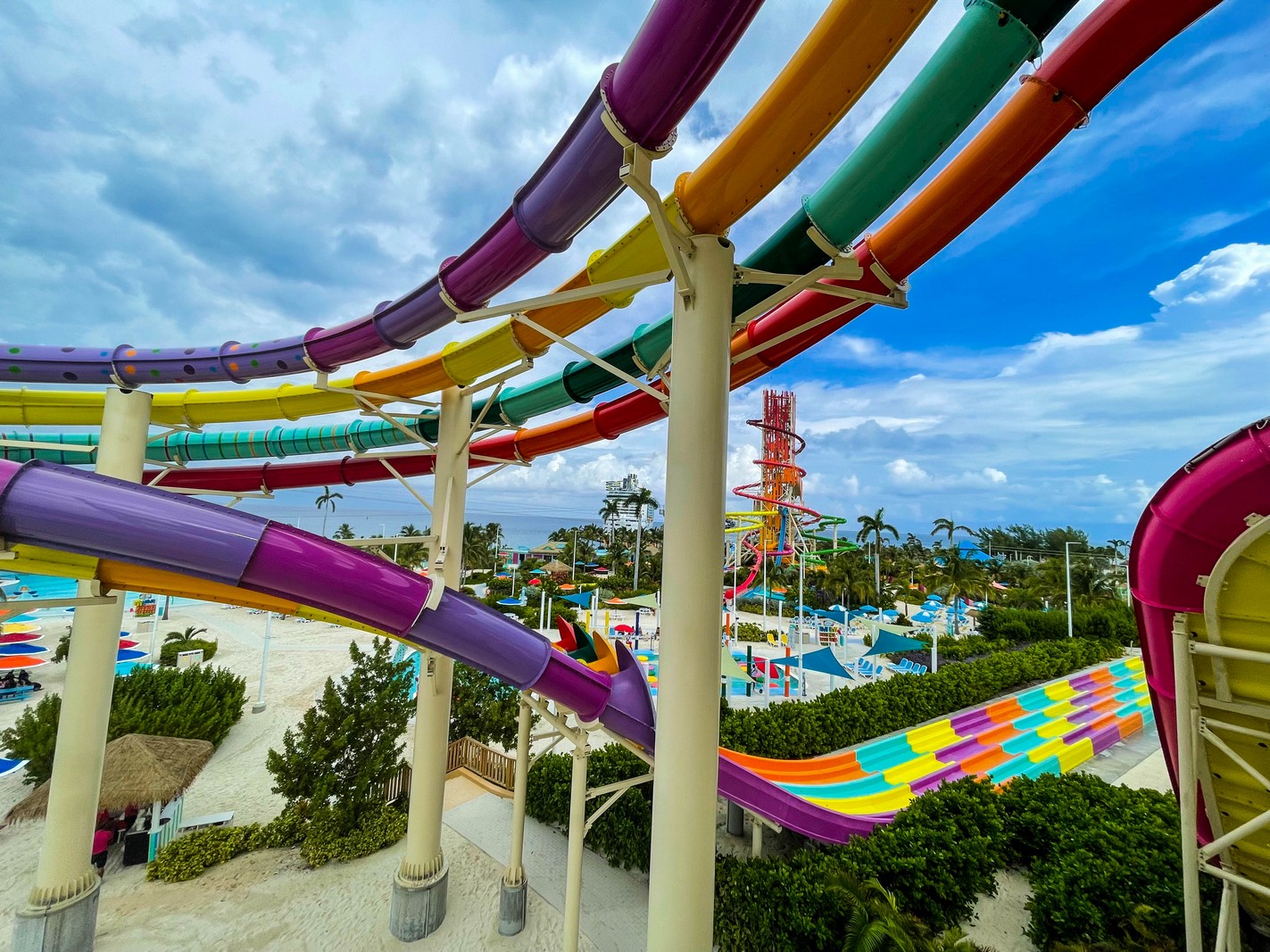 4. Your drink package works here
If you already have an all-you-can-eat drink package, you can use the perks in the water park (and everywhere else at Perfect Day at CocoCay).
5. Look for chickens
If you hear a rooster, it's not your imagination.
CocoCay is home to a variety of animals, including wild chickens. They roam around the island, but tend to frequent the water park the most.
Look for them coming in and out of the bushes.
Whatever animal you see, please do not feed any of them.
Is Thrill Water Park Worth It?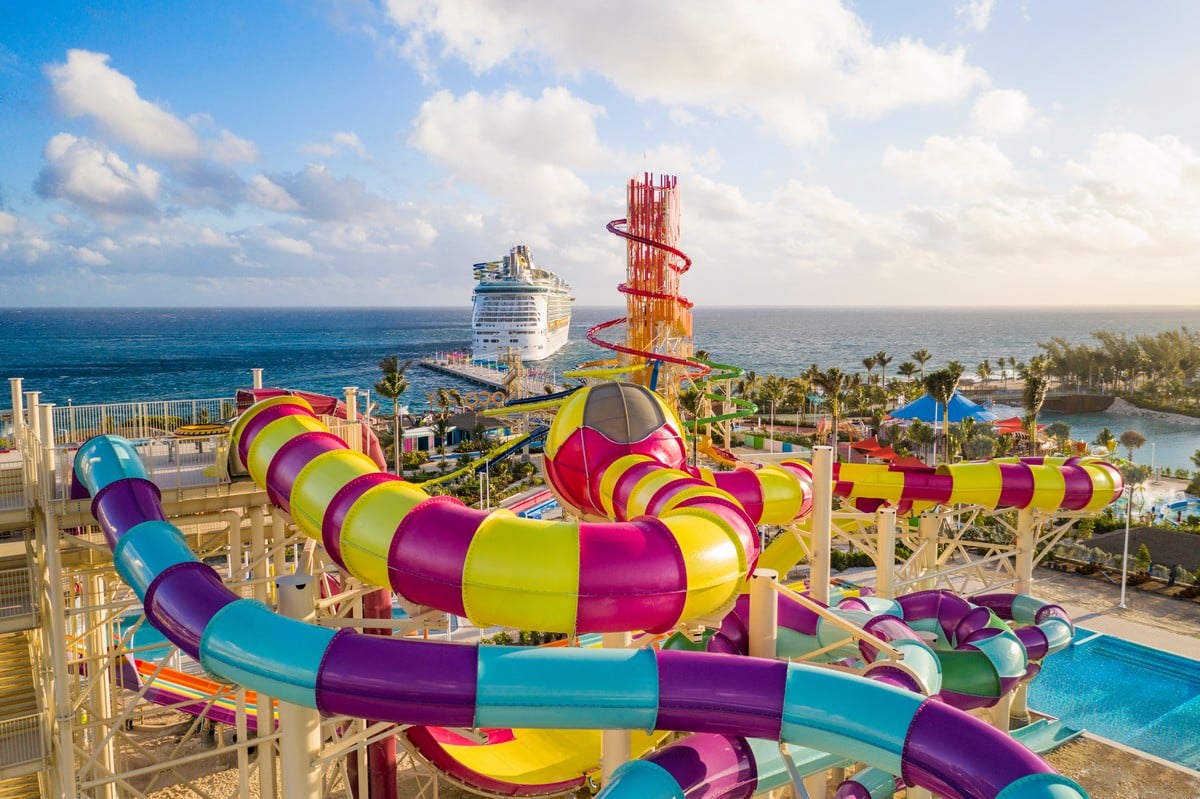 Royal Caribbean offers thrills and fun with Thrill Waterpark, so the decision to go depends on what you want to do and the price.
There are enough slides and pool activities to keep you busy all day during your visit. When the park is full, lines can develop for popular slides during the day, but you should always have enough time to experience them all.
The wave pool in particular is underrated as a fun activity, and some of the waves get really high in the deep end.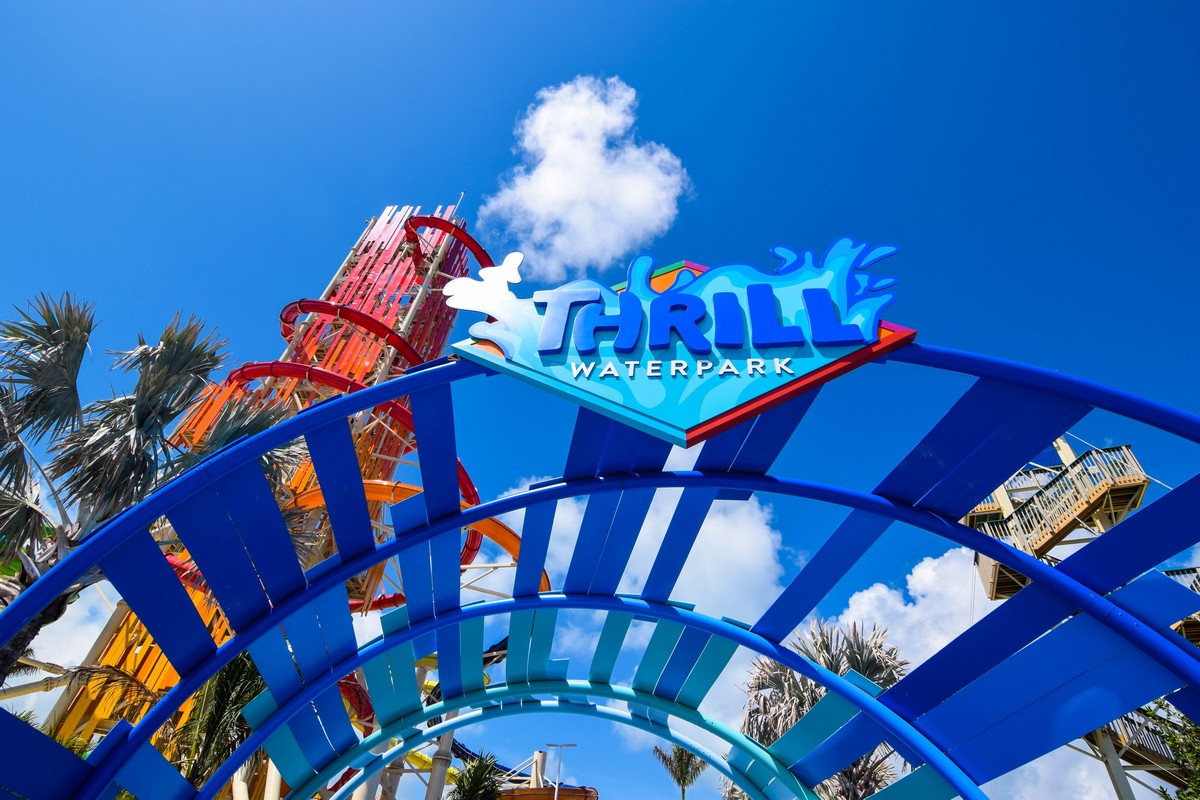 When deciding if it's worth going to the water park, you need to consider what else to do at Perfect Day at CocoCay. Royal Caribbean is having a lot of fun on their island, and you can find some really compelling alternatives at the beaches, pools, and the beach club.
If you only have kids under the age of 6, you might consider skipping the water park and taking them to Splashaway Bay and Captain Jill's Galleon instead. Both are free and aimed at younger / smaller children, and always have slides for their enjoyment.
If you have 4 or more people in your party, be sure to compare prices between buying an entry for everyone and booking a cabin. In many cases, it makes sense to book the cabin as it includes admission, as well as the amenities it offers.
Ultimately, if you want to do a lot of really fun slides and make your way around everything else, Thrill Waterpark has it all.