How online cruise planning is getting easier
It's not your imagination, the Royal Caribbean website experience has been refreshed to hopefully make things a little easier to get what you want.
Royal Caribbean's website reflected the general trend in the travel industry to try to improve its web presence and make things easier and faster for its customers.
New cruisers looking to book a cruise will likely find the options — 2,600 rooms, a dozen decks, shows, restaurants — overwhelming. It's no wonder users ignore aging websites and try calling instead.
It's important to make its website easier given that Royal Caribbean Group revealed in an earnings call last month that every day there are "millions of interactions on our websites".
Royal Caribbean Group CEO Jason Liberty said web traffic was higher than ever: "Our websites are receiving nearly double the visits compared to 2019, and we are generating a record level of direct bookings."
At this point, Royal Caribbean sees an opportunity with its online travel tools. Royal Caribbean International's President and CEO, Michael Bayley, spoke about the importance of improving his web portal: "I think, certainly, the investments we've made in our technology in terms of communication customers of their cruise experience and the opportunities and experiences that are available to them has proven fruitful."
"And I think that's related and reflects the kind of acceptance that the consumer now has at a much higher level to buy online."
"And I think everything we've done with our pre-cruise marketing is proving really, really effective."
Here's a look at some of the recent updates and enhancements Royal Caribbean has made to make it easier for customers to book and manage their cruises.
Facilitate research
Finding the perfect cruise vacation starts with many possibilities, requiring the user to sift through search results to find the right option.
Royal Caribbean recently updated its cruise booking site in an effort to make results easier.
Although the search form looks the same on the Royal Caribbean home page, the results come from a new, simpler layout that is not only easier to use on a mobile device, but also offers options filtering with fewer clicks.
Search results are in a cleaner layout with less "fluff" around it so you can explore the route and ship you want. You will find clear and simple messages and prices throughout the booking process. Visuals are important, but text is crucial.
Read more: How to choose the perfect first cruise?
Royal Caribbean has also included advanced paths, alternate itineraries and exits throughout the booking process – so experienced users can quickly dial in the exact cruise they want.
New search results seem to appear from time to time, possibly indicating that they are testing it until it is ready to completely replace legacy search results.
Improved cruise planner
Just as important to Royal Caribbean's results as someone booking a cruise is someone booking a cruise add-on.
According to Royal Caribbean Group executives, every dollar a guest spends before the trip translates to about $0.70 more on the dollar while sailing and doubles overall spending compared to other guests.
This year, guests are spending 30% more across all spend categories pre-cruise than they did in 2019 before the pandemic.
It is certainly easier for customers to purchase a drink package, wifi or shore excursion if the website is simpler.
In early 2021, Royal Caribbean began rolling out a new look for its cruise planning tool.
Dubbed "My Royal Cruise", it has slowly replaced the old Cruise Planner site where customers can browse the various add-ons for their navigation.
Read more: Everything you need to book before the cruise to avoid it being sold out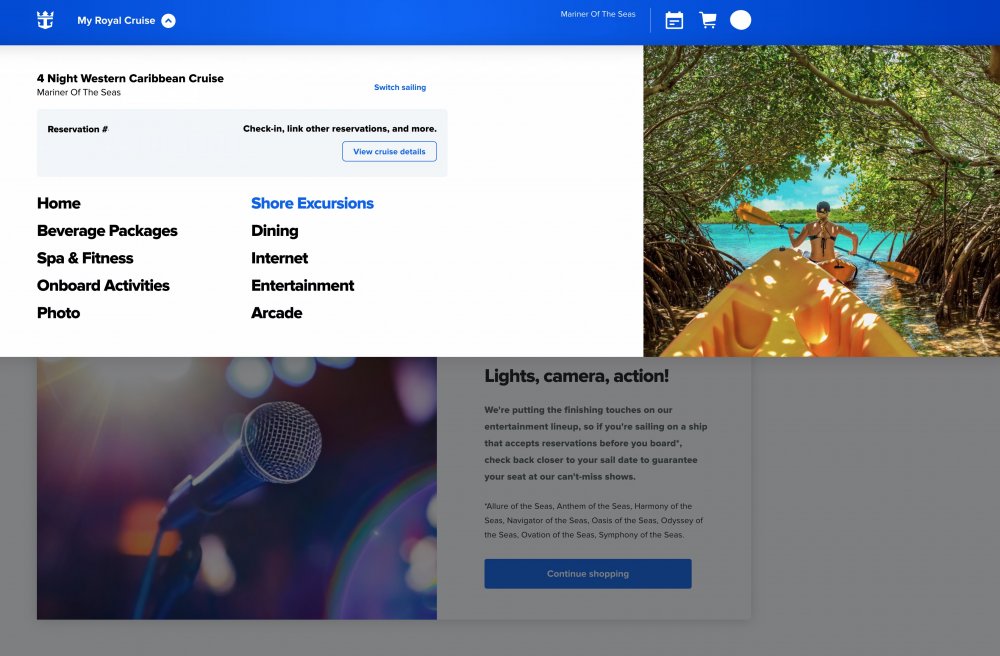 The objective of this refresh was to make it more intuitive for customers to plan their navigation.
My Royal Cruise features a cleaner look, which takes advantage of contemporary web design. It is simple and functional, while remaining visually appealing.
Additionally, returning customers have more personal information stored, so purchases can be completed much faster than with the old site which required the user to enter all of their information multiple times for each transaction.
Application upgrades
Royal Caribbean's app has gone from "nice to have" to "essential" since cruises restarted in June 2021.
For most cruises, scanning your passport and uploading a security photo will generate a mobile boarding pass which will help improve the terminal experience.
You can then choose your arrival time from a list of staggered options so you know what time to arrive.
The new eMuster process has also been integrated into the app, allowing you to start the mandatory safety briefing even before boarding.
On several ships, like Odyssey of the Seas, the app can also be your own digital key to unlock your cabin.
Once inside, you can control the TV and even stream content directly from your phone. Ambient temperature, lights and curtains in some cabins can also be controlled.
Book a hotel before the cruise
Because many of its customers were already booking a hotel before or after the cruise, Royal Caribbean made this option easier.
The Royal Caribbean Hotels program launched in March this year, and it offers cruise passengers an easy way to lock in a pre- or post-cruise stay.
Royal Caribbean says this new program offers exclusive rates with thousands of hotels in every Royal Caribbean port of departure and arrival, including those in the Caribbean, Europe, Asia-Pacific as well as Americas North, South and Central.
Hotel search results can easily be filtered based on the number of travelers in your party, cruise departure or arrival city and dates, as well as preferences such as hotel rating , equipment, etc.