Champion Blog: Casey Kirwan – iRacing.com
[ad_1]
As part of his 2022 eNASCAR Coca-Cola iRacing Series championship victory, XSET driver Casey Kirwan has agreed to share with us not only his experiences onsite at the NASCAR Hall of Fame in Charlotte for his $100,000 championship win, but also his visit to Phoenix Raceway to celebrate the title and even his 2022 season as a whole. Here's a throwback in Casey's own words, along with some footage from her award-winning night and trip to Phoenix:
I had a lot of momentum heading into the 2022 season after the way we raced in 2021 and also with fresh energy moving up to No. 95 for 2022. We kicked things off with a Clash win at the LA Coliseum, which I wanted to earn pretty badly just to be a fan of the whole project.
From the start of the season we had really good speed and were consistently in the top 5/10 every week it seemed. Once May hit, we really started to pick up momentum. I led laps and was in contention to win at Kansas, then I led laps at Charlotte and Gateway and the strategy didn't work. Nashville and Road America, we also ran really hard and it all led to Pocono.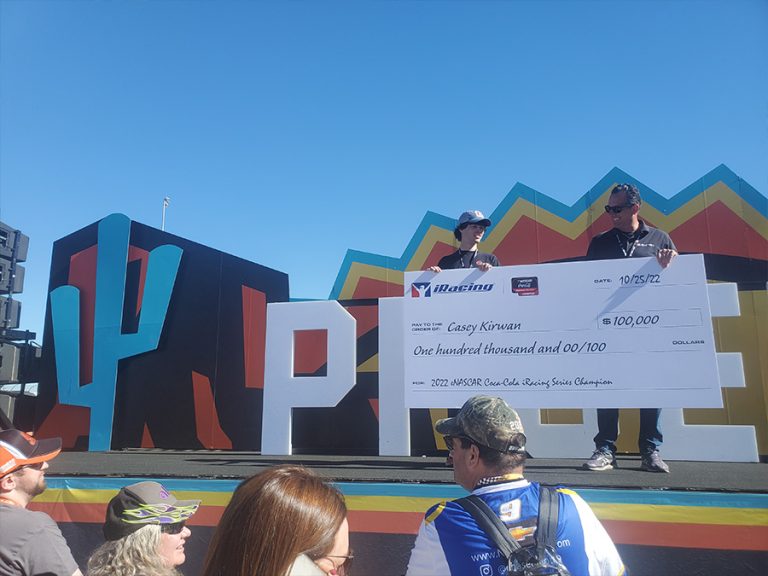 At this point in the season I think there were about seven winners, and I was starting to worry a little bit about not having a win and what happened in 2021 happening again and missing the playoffs while being in the top five in points. Pocono has been my favorite track for a long time and I had a lot of confidence going into this race. I don't remember exactly where we started, but I do remember being incredibly fast after about 20 laps of racing and getting into the lead before the first round of green-flag pit stops.
We ended up getting caught by a warning in the cycle and trapped around 15th or so, I think. Somehow we got back to the front and got another yellow at some point and went down to get two tires and come back to the front. We took the lead and then lost it on several attempts at green and white checks, and it all came down to the last attempt. I knew there was a lot at stake and that I was going to do anything not to miss another opportunity to lock in the playoffs, and with some physical contact with the line we barely got the win and made the playoffs.
Fast forward to the start of the playoffs in Bristol. I qualified terribly and worked my way up to the top 10, then got involved in a wreck and half flipped and destroyed the car. Luckily, through further chaos, we salvaged a P22 finish, but had some work to do to make the final four. I was super excited for Talladega because I really enjoyed the superspeedway package in Next Gen cars and thought I could do really well there. Well in the end I found myself pushing Collin Bowden separated from the peloton at the finish and ended up with a lot of contact and neither of us won and Zalenski stole a last 4 place which stung being so close to being locked out with a 100k shot but it was still solid points with a P3.
On Homestead, I believe second to sixth was separated by maybe six points, and I managed to set the best qualifying lap of my life and put it on pole. This speed continued throughout the race and it looked like we were sailing flawlessly to win and make the final 4 and then a late yellow changed all that. Lost the lead on the last pitstop, but luckily recovered a P3 anyway and made it into the final four.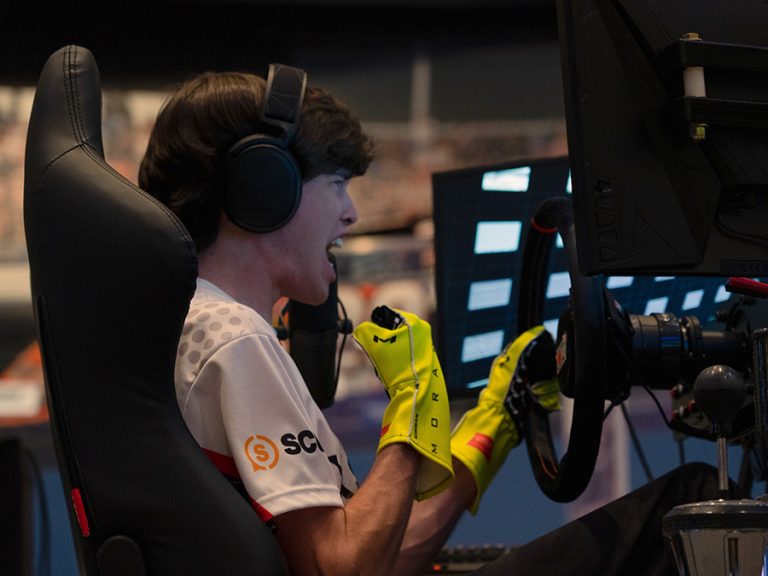 Place at the end. Running inside the Hall of Fame was going to be something none of us had ever experienced. I had the luxury of being local, so I tore up my entire rig on Monday night after two weeks of 2,000+ lap practice for this race and took it to the Hall. Another benefit of being local was having a group of friends and family who could come watch and see lots of familiar faces before the race. All the preparation for the race was super cool and feeling any kind of atmosphere versus being at home was awesome. Once we start the race, your concentration and tunnel vision kick in and block out most outside noise.
At the final restart, I lined up fourth out of the last four, and that's when the intensity really picked up. As we all fought, you could hear the crowd getting louder and giving the whole race even more energy. Once I got the lead and we started getting closer to finishing under 20, I started to hear the show a little more and hear them buzzing about a touch here and there and I was just praying there was no yellow. Luckily a yellow never came – taking the white flag was the biggest sigh of relief of my life and it started to settle. The feeling of crossing the line will forever be etched in my memory, from all the hard work and everything. my whole career has paid off. It was super special to share this moment with all the family and friends that I talked about earlier to be able to be there and experience it all.
Then at the best moment: the trophy. Most won't believe me when I say once I saw the trophy I wanted as much if not more than $100,000. That's the only downside to virtual races: there aren't many trophies to earn stuff, and I've been really wanting a nice trophy for the bottom of the stream for a while. And for him to have Dale's name on it was super special and for him to showcase it with everything he's done for iRacing and sim racing. It was also super cool to chat with Dale for a bit and check out some cool cars on Glory Road afterwards. One of the highlights of the evening was going upstairs and going to Lightning McQueen, and taking pictures with the trophy after winning the 95 was just perfect.
Two weeks later we were able to make the trip to Phoenix for the championship weekend. It was a super fun trip with of course being able to see all three championship races in person and in the NASCAR suite which was awesome. But also meeting so many nice people and catching up with old friends I haven't seen in a while. On Sunday we were able to present the checks on stage before the Cup race and cap off an incredible weekend and year.
Many thanks to NASCAR and iRacing for all the experience and everything they have done for the series with Coca-Cola. Also big thanks to XSET for the support over the past 2 years and it was super cool to get them a championship. Expect 2023 to try and start all over again!
---
---
Chris Leone covers multiple iRacing World Championship Series. He is the former Media Director of Red Bull Global Rallycross and has competed in numerous stock car, open wheel and off-road races as a writer and social media expert. Chris can be found on Twitter at @christopherlion.
---
[ad_2]
Source link